Pubblicato: Domenica, 04 Dicembre 2016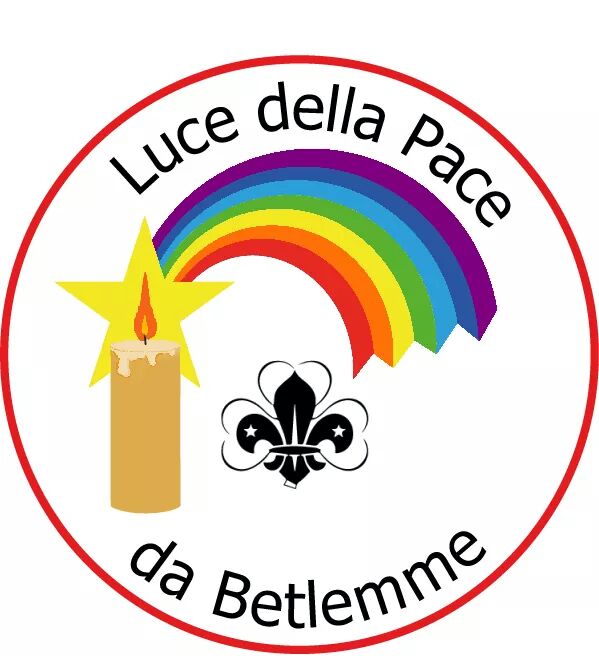 Come ogni anno le comunità MASCI del Lazio sono impegnate nella distribuzione della Luce della Pace da Betlemme.
Gli AS della regione, accoglieranno la "Fiammella", in tre distinte stazioni sabato 17 Dicembre.
Le comunità di Guidonia unitamente a quelle del Lazio zona nord, saranno nella stazione di Orte alle ore 14:43, per poi portare la luce nelle rispettive città.
Pubblicato: Giovedì, 22 Dicembre 2016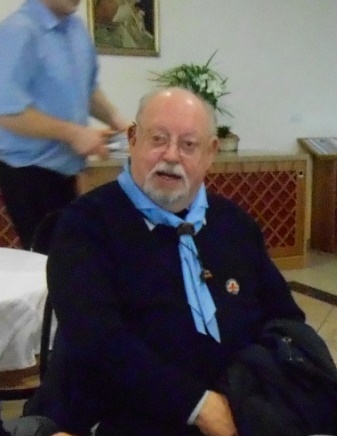 Peppe Bachetti, Amministratore della Cooperativa Strade aperte che nel passato ha ricoperto vari incarichi nell'AGESCI e nel MASCI, ha affrontato come era nel suo stile, con grande coraggio e determinazione, una lunga e dura malattia.
L'avevo sentito circa un mese fa, dopo una importante operazione e il carattere, indomito come sempre, lo portava a parlare di sviluppo e nuove cose da fare. Era anche impegnato, seppur malato, a supportare per quanto poteva la popolazione del suo territorio colpita dal terremoto.
Grande e storico amico di Riccardo Della Rocca, potrà continuare a progettare con lui grandi imprese nel Paradiso.
I funerali sono lunedì 19 dicembre ore 14,30 in Ascoli Piceno chiesa di San Giacomo della Marca via Giuseppe Verdi 11.
Alla famiglia e a quelli tra voi legati da una pluridecennale amicizia nei suoi confronti va il cordoglio fraterno mio e di tutto il MASCI Lazio.
Carlo Bertucci, SR Lazio
Pubblicato: Martedì, 06 Dicembre 2016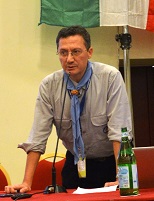 Carissimi.
Sabato 3 dicembre si è svolto il Consiglio Regionale e riassumo, prima del verbale che vi arriverà nei prossimi giorni, i principali punti. Hanno partecipato 31 Comunità su 34.
1) Sono stati presentati i nuovi organi nazionali, in particolare Matteo Caporale nuovo consigliere e vicepresidente nazionale, Claudio Cursi presidente collegio Revisori, Anna Volpe segretario internazionale, Michele Pandolfelli stampa, Alberto Cuccuru consulente del Comitato Esecutivo nazionale.
2) E' stato ratificato l'ingresso nel comitato esecutivo regionale di Maria Teresa Vinci della Comunità Roma 22.
3) E' stata ratificata l'adesione al MASCI di una nuova comunità di Roma dopo presentazione di Federico Colombo
Pubblicato: Mercoledì, 14 Luglio 2021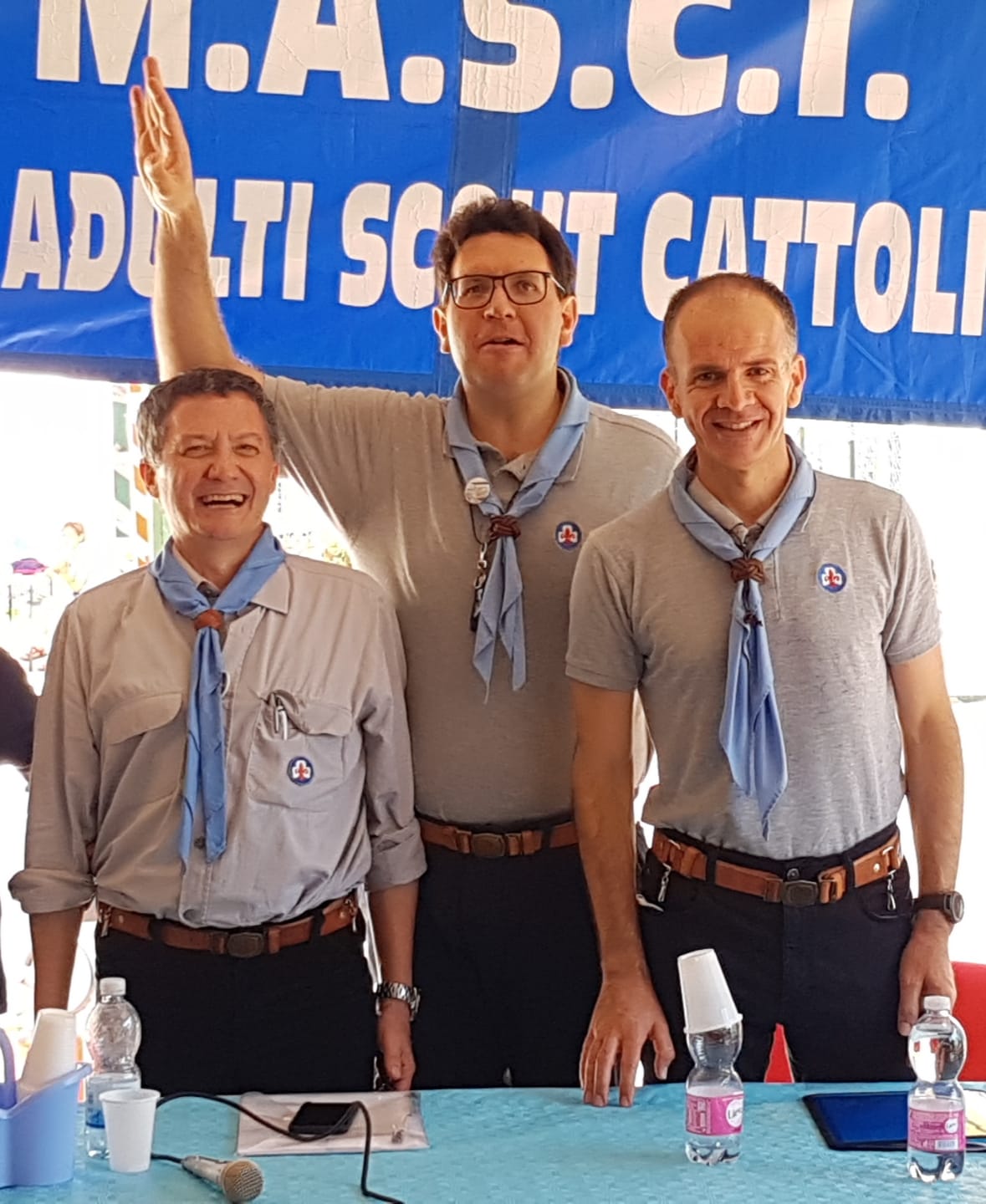 The Regional Assembly of MASCI Lazio was held on 3 July 2021 in Latina Scalo. At the Parish of San Giuseppe worker, seat of the Latin community 2, the Adult Scouts of Lazio have elected, practically unanimously, their new Regional Secretary.
Alberto CUCCURU, of the Guidonia 2 Community, receives the baton from Carlo BERTUCCI, outgoing Secretary.
A heartfelt thanks to Alberto, for his availability to the Service that will keep him busy for the next three years, and a warm thanks also to Carlo, for all the work done in the over 6 years of his double mandate.
Pubblicato: Lunedì, 04 Gennaio 2021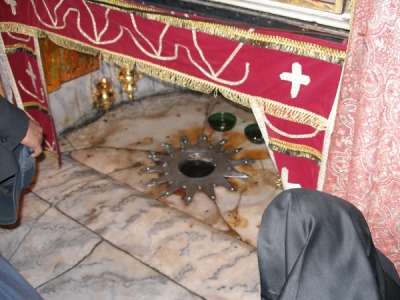 Will there be no Christmas?
Of course there will be one!
(Javier Leoz
Since 1993, in Italy, the Scouts of all associations are involved in welcoming the Light that comes from the Church of the Nativity in Bethlehem: from the place where Jesus was born, through many roads, the Light comes to our lifes, a wish and at the same time an invitation to become builders of Peace, solidarity and sharing.
"Peace has resulted, it is a fruit that must be cultivated with patience. It is a goal to be reached with every effort" (Mons. Andrea Ghetti - Baden). We have tried to do this effort!
In this 2020 full of confusion, the Light was perhaps even more awaited than usual. Yet, the pandemic blocked this dear tradition, but at the same time it invited us to reflect more deeply on the sense of fraternity that renews us in Christ, and pushed us to make ourselves Light in our communities.
To live the extraordinary spiritual and community experience of welcoming the Light of Peace even in the covid era, MASCI Lazio has proposed an instrument to the communities and to all the Scout Adults: a booklet that has allowed us to be united, even if "distant".
So, on the last Sunday of Advent, at our churches or our homes we symbolically brought a light that reached the fourth candle: the Son of God comes into the world to illuminate the life of all. The MASCI Lazio booklet also proposed some reflections and prayers to live this moment also in the family and in the community.
You stay with us,
and we will begin to shine as you shine:
to shine until it is light for others.
The light, oh Jesus, will come all from you ...
(John Henry Newman)


Inspired by these words and by the spirit of the Movement, some communities have gone further and created other ways to "be together" and exchange the Light: webinars, video calls, videos, photo albums of past events. The Light of Peace has once again proved to be a tradition not to be... extinguished!